Product details

eiConsole for OpenTravel Bundle
The XCS eiConsole for OpenTravel includes a single XCS eiConsole license that imports both the OpenTravel XSD and associated documentation, provides searchable OpenTravel documentation, supports "drag and drop" Codelists, enables OpenTravel-compliant Model extensions and supports multiple OpenTravel model releases, model upgrades and different model interpretations.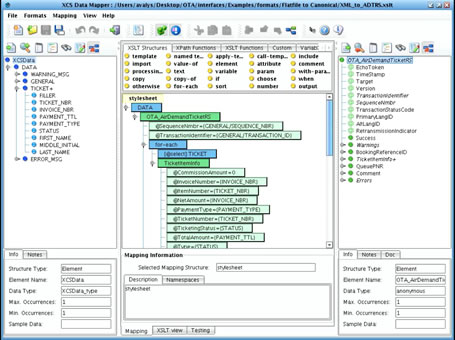 Includes:
* Transaction templates for all 240+ OpenTravel messages
* A comprehensive tutorial on how to build, test, validate and deploy OpenTravel XML interfaces.
* A graphical XCS Data Mapper with integrated support for the OpenTravel Message Specification.
The Data Mapper provides in-line, searchable access to all of the OpenTravel documentation, validation rules, and code lists - populated dynamically from the information-rich message schema. Combined with the message templates and drag-and-drop field mapping, this tool dramatically reduces a time consuming and error-prone part of standards implementation process. The Data Mapper can read both the OpenTravel XSD and the associated Metadata enabling many of the time saving features in the Data Mapper
Some of the Source and Target format readers included with the XCS eiConsole are:
* The OpenTravel Schema
* The XSD Format Builder
* The Flat File Format Builder>
* The XML Format Builder
* The HTML Format Builder
* The SQLXML Format Builder
* The WSDL Format Builder
Transformation-building capabilities are enhanced by the XCS eiConsole for OpenTravel Validation capability. The validation processor automatically evaluates business rules documented in the OpenTravel standard against an XML document. This automated validation capability will allow trading partners to quickly and easily verify their compliance with each release of the OpenTravel standard. The enforcement of machine-readable business rules will also greatly assist in promoting compatibility between trading partners. PilotFish is proud to offer the XCS eiConsole for OpenTravel to the travel & hospitality industries. The combination of the PilotFish XCS eiConsole and the OpenTravel schema will increase speed to market, data quality, and ultimately, the profitability of implementers.